B-boy & B-girl Dojo is a unique, interactive way to learn and master the art of breaking, also known as b-boying. Focus and AT of the world famous Flow Mo Crew will take you on an incredible journey from the very basics of the dance form all the way to the grand master level and into their deepest philosophies. They have dedicated their lives for this dance, traveled the world and now all the knowledge gathered during the years is summarized in the Dojo.
The constantly updated language selection (currently English, Spanish and Finnish), subtitles (also in Japanese and Chinese for all videos) and forum make the Dojo a worldwide community. Almost 100 videos of some of the best teaching on the planet include moves, philosophies, history, and knowledge. Monthly extras will keep you inspired and webinars will give you a chance to get answers to your question live.
Join now! Membership plans, payment with Paypal:
"We really loved how the concepts are explained in your videos. It should be a reference for all the teachers!!" -B-Boy Taka, Belgium
"Now I love the way I dance, and my style too and this was possible thanks to your advice that you gave me." - B-boy Snack, France
"Definitely a visionary move from 2 of the best in the game, -- Highly recommended." - Renegade, hip hop pioneer, UK
September 1st we will start a new education program at bboydojo.com. 14 weeks, 14 styles!
Every week we'll be taking one of the 14 styles to another level. GET YOUR SPOT HERE!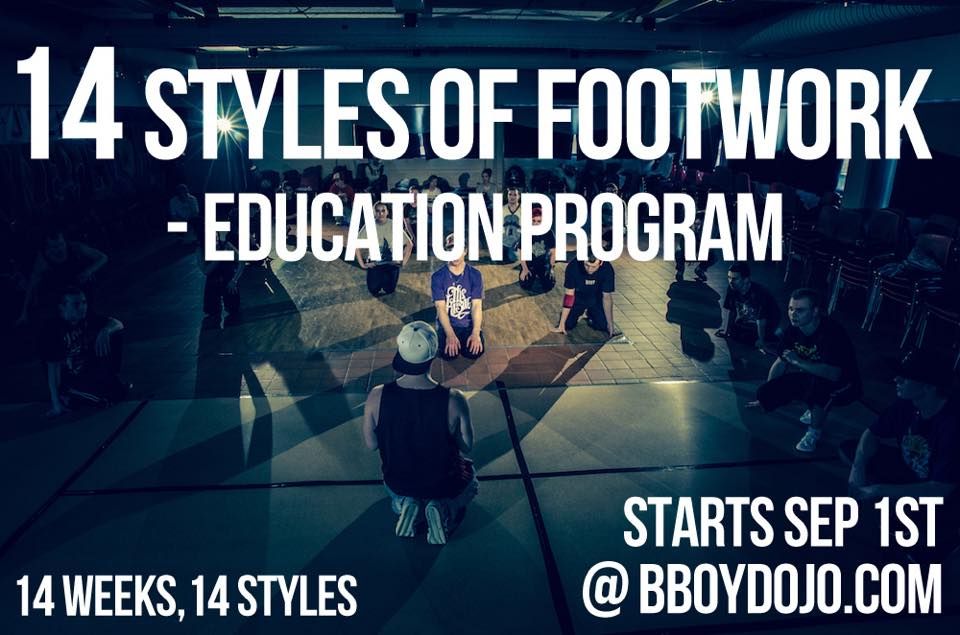 Catch the Dojo near you! Tour Dates:
20.8. GBG Dance Festival, Sweden
21-26.8. Massive Camp, Italy
27.8. European Concrete Jam, Switzerland
24.8. Break Mission, UK
1.10. The Kulture of Hype & Hope, Netherlands
8.10. Silverback Open, USA
15.10. Solo Gas, Italy
22.10. Just Jam, UK
29.10. Battle of the Year, Germany
5.11. Finnish B-Boy Championships, Finland
2.12. Red Bull BC One, Japan
10.12. Battle of Est, Estonia